Faculty: Leonardo Salmena, PhD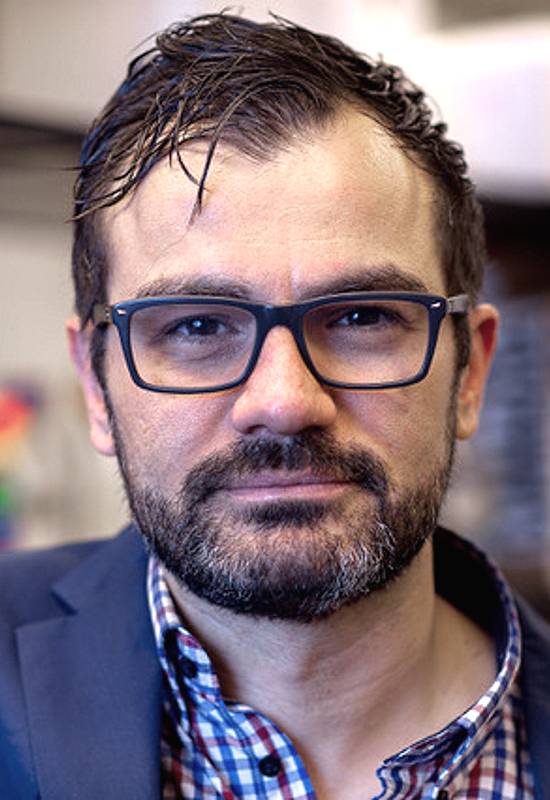 Assistant Professor
General Research Areas:  Biochemical & Molecular Pharmacology; Second Messengers & Signal Transduction.
Competitive Endogenous RNA, Phosphoinositide Signaling and Chemotherapy Resistance in Leukemia.
Our ongoing scientific interests include investigations of signaling perturbations in the oncogenic PI3-kinase pathway, specifically the function and aberrations of the tumor suppressor PTEN in the context of leukemogenesis. We are currently investigating post-translational mechanisms of PTEN regulation and control of PTEN expression by microRNA.
We have recently identified a novel post-transcriptional mechanism of gene regulation of PTEN mediated through competitive interaction of cellular RNA molecules. These finding have opened a new field of study which embraces the notion that all cellular RNA molecules (coding and non-coding) have the ability to compete for microRNA binding and thereby mediate their relative functions, in trans. Future studies include functional analyses of the non-coding transcriptome, its aberrant regulation, and the consequences for human disease and cancer therapy.
Finally, working closely with the Leukemia group at the Princess Margaret Cancer Centre, we are intensely investigating the genetic alterations and molecular mechanisms that underlie the pathogenesis of human leukemias, with the aim of identifying cellular mechanisms of chemotherapy resistance, new therapeutic targets and novel strategies for disease prevention.
 
Selected Publications:
Dzneladze I, Woolley JF, Rossell C, Han Y, Rashid A, Jain M, Reimand J, Minden MD, Salmena L. SubID, a non-median dichotomization tool for heterogeneous populations, reveals the pan-cancer significance of INPP4B and its regulation by EVI1 in AML. PloS One. 13(2):e0191510, 2018
Odén L, Akbari M, Zaman T, Singer CF, Sun P, Narod SA, Salmena L, Kotsopoulos J. Plasma osteoprotegerin and breast cancer risk in BRCA1 and BRCA2 mutation carriers. Oncotarget. 7(52):86687-86694, 2016
Woolley JF, Dzneladze I, Salmena L. Phosphoinositide signaling in cancer: INPP4B Akt(s) out. Trends in Molecular Medicine. 21(9):530-2, 2015
Dzneladze I, He R, Woolley JF, Son MH, Sharobim MH, Greenberg SA, Gabra M, Langlois C, Rashid A, Hakem A, Ibrahimova N, Arruda A, Löwenberg B, Valk PJ, Minden MD, Salmena L. INPP4B overexpression is associated with poor clinical outcome and therapy resistance in acute myeloid leukemia. Leukemia. 29(7):1485-95, 2015
Salmena L, Poliseno L, Tay Y, Kats L, Pandolfi PP. The ceRNA hypothesis: the Rosetta stone of a hidden microRNA-dependent language. Cell, 146:353-358, 2011.
Poliseno L*, Salmena L*, Zhang, J, Carver, B, Haveman, W.J, Pandolfi PP.  A coding-independent function of gene and pseudogene mRNAs regulates tumour biology. Nature, 465:1033-8, 2010. (co-first author)
Gewinner C, Wang ZC, Richardson A, Teruya-Feldstein J, Etemadmoghadam D, Bowtell D, Barretina J, Lin WM, Rameh L, Salmena L, Pandolfi PP, Cantley LC. Evidence that Inositol Polyphosphate 4-Phosphatase Type II Is a Tumor Suppressor that Inhibits PI3K Signaling.  Cancer Cell, 16:115-25, 2009
Song MS, Salmena L, Carracedo A, Egia A, Lo-Coco F, Teruya-Feldstein J, Pandolfi PP. The deubiquitinylation and localization of PTEN are regulated by a HAUSP-PML network.  Nature, 455:813-7, 2008.
Salmena L, Carracedo A, Pandolfi PP. Tenets of PTEN tumor suppression.  Cell, 133:403-14, 2008.
Salmena L, Pandolfi PP. Changing venues for tumour suppression: balancing destruction and localization by monoubiquitylation. Nature Reviews Cancer, 7:409-13, 2007.
Salmena L, Hakem R. Caspase-8 Deficiency in T-Cells Leads to a Lethal Lymphoinfiltrative Immune Disorder. The Journal of Experimental Medicine, 202:727-32, 2005.
Su H, Bidère N, Zheng L, Cubre A, Sakai K, Dale J, Salmena L, Hakem R, Straus S, Lenardo M. Requirement for caspase-8 in NF-kappaB activation by antigen receptor.  Science, 307:1465-8, 2005.
Salmena L, Lemmers B, Hakem A, Matysiak-Zablocki E, Murakami K, Au PY, Berry DM, Tamblyn L, Shehabeldin A, Migon E, Wakeham A, Bouchard D, Yeh WC, McGlade JC, Ohashi PS, Hakem R. Essential role for caspase-8 in T-cell homeostasis and T-cell-mediated immunity.  Genes & Development, 17:883-95, 2003.
Contact:

Department of Pharmacology & Toxicology
MSB 4308, 1 King's College Circle
Toronto, ON M5S 1A8
Telephone: 416-978-3341/416-946-4501 X3695
FAX: 416-946-2065
Email: leonardo.salmena@utoronto.ca
OCI website: http://www.uhnres.utoronto.ca/researchers/profile.php?lookup=57165
Lab website: www.salmenalab.com